Welcome to Shadowhunter Academy: Shadowhunter Academy, Book 1
by Cassandra Clare, Devon Bostick (Narrator), Simon & Schuster Audio (Publisher)
This one was a cute short about Simon trying to live up to his own legacy (see previous many books) by going to Shadowhunter Academy. It's mostly funny almost a mockery of an anime high school heroes drama, but clearly setting up for a more serious tale about what it means to be a hero. Pointless to read without having read the other series, I expect, but an enjoyable lighter follow-up if you have.
Burned (An Alex Verus Novel)
by Benedict Jacka
Still enjoying this series, surprisingly, because this is around the point where the political drama and awful things happening to characters I love starts to wear on me. Still enough light in the dark, and it was nice to see some of the characters come to terms with each other.
Prez Vol. 1: Corndog in Chief
by Mark Russell, Sean Parsons (Illustrator), Ben Caldwell (Illustrator), Mark Morales (Illustrator), Dominike"domo"stanton (Illustrator)
In a not-so-distant future, corporate personhood and attention economy has led us to the point where a teenaged girl gets elected as president of the united states after she starred in a crappy video and a hacker group decided to push her as a viable 3rd candidate. This book chronicles her rise and her attempts to make something out of her figurehead presidency after all. This one jumps around a lot (likely an intentional choice) but is an interesting story at its core.
Delilah Dirk and the King's Shilling
by Tony Cliff
Book 2 in this series is a bit less swashbuckling with a touch of Jane Austen, but still fun. Love the denouement with her relatives.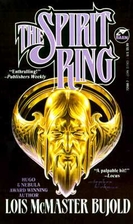 The Spirit Ring
by Lois McMaster Bujold
Apparently I'd never read this Lois Mcmaster Bujold? This tale could be cast in the mold of "plucky girl hero saves the world" but with our young heroine's rage and willingness to bend the rules to get what she needs, it's a strangely strong story that quietly breaks many of the rules we quietly have about stories told about young heroes and women. Here is a heroine who doesn't feel guilt or uncertainty about her power and intelligence and rages against having to hide it, who gets angry, who doesn't follow the rules and this doesn't lead to downfall and repentance but rather to success. This is a quietly subversive story wrapped in a traditional fantasy mold. Sure, it's maybe not the epics and maybe isn't as full-package clever as her later works, but it's a surprising gem for its genre.